Sunday Street Team was created by Nori @ ReadWriteLove28! For more info, click here!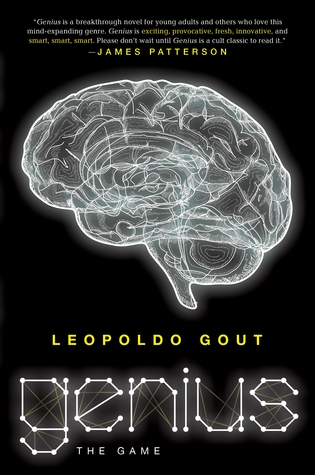 Genius: The Game (ARC)
By: Leopoldo Gout
Pages: 304
Published: May 3rd, 2016
Published by: Feiwel & Friends
Format: e-ARC
Source: Publisher for SST
My Rating: 4/5 stars
Sypnosis:
"Trust no one. Every camera is an eye. Every microphone an ear. Find me and we can stop him together.
The Game: Get ready for Zero Hour as 200 geniuses from around the world go head to head in a competition hand-devised by India's youngest CEO and visionary.
Rex- One of the best programmers/hackers in the world, this 16-year-old Mexican-American is determined to find his missing brother.
Tunde-This 14-year-old self-taught engineering genius has drawn the attention of a ruthless military warlord by single-handedly bringing electricity and internet to his small Nigerian village.
Painted Wolf-One of China's most respected activist bloggers, this mysterious 16-year-old is being pulled into the spotlight by her father's new deal with a corrupt Chinese official.
The Stakes: Are higher than you can imagine. Like life and death. Welcome to the revolution. And get ready to run."
___ ___ ___ ___ ___ ___ ___ ___ ___ ___ ___ ___ ___ ___ ___ ___. ___, ___ ___ ___ ___ ___ ___, ___ ___, "___ ___ ___ ___, ___ ___. ___ ___ ___ ___ ___ ___ ___ ___ ___ ___ ___ ___ ___ I just ___ ___ ___ ___ ___ ___ ___ ___ ___ ___ ___."
Add GENIUS: THE GAME to Goodreads right here!
This review for Genius: The Game is posted as part of the Sunday Street Team hosted by Nori @ ReadWriteLove28! More more info on the street team, click here. Thank you to Nori and the publisher for sending me a copy to read in exchange for an honest review!
Like always, I'm always excited to start new books. It's been awhile since I've read a lighter book, so I was super excited for a chance to take a break from brooding teens and such to read this one, which from the synopsis alone had me thinking of the fun it would include. The promise was quite fulfilled and with that I rate Genius: The Game with a 4/5 stars.
This book was a whirlwind from the start. Reading the synopsis, alone, had me absolutely hooked. I'm a huge sucker for competition, in general, but in books, it can have my heartbeat racing as if I were actually running a marathon. And even though it was much more of a competition of wits and innovation, I was still intrigued at how the main characters were going to end up winning. The Game was an interesting set of challenges that will for sure have you trying to figure out the puzzle for yourself.
Secondly, I absolutely loved the characters. Rex was funny, yet so caring that I wanted to hug him; Tunde was the genius I've always wanted to be; and Painted Wolf was basically my favourite character ever and everything I aspire to be. Not only was the cast of characters epically diverse, but they were so distinct from each other, each of them had different motives for why they wanted to be in the game. The writing of their voices had their own quirks and was absolutely hilarious at times.
Their friendship with each other (aka via internet most of the tie) reminded me of the friendship I share with a lot of people which are exclusively online. The moment where they all finally met made me tear up a little because I know exactly how they felt when they finally got to meet their friend in person. They worked so well with each other to try and win the game, they complement each other so well.
Lastly, I loved the little twists with the villain and their motives because it wasn't exactly what I thought it was going to be. It took me by surprise, but was still completely reasonable. The ending was a little unclear, especially without a sequel planned, but I think it summed up the end of that particular journey with the characters.
Final Verdict:
Genius: The Game was an epic novel with really diverse characters. This competition will have you flying through the pages and trying to find out what happens next. I recommend this novel for those who love competitions, and really great friendships!
Giveaway!


About the Author:Leopoldo Gout is the producer behind many films including Days of Grace, which A.O. Scott of the New York Times called "a potent and vigorous film." He is also a writer, artist, and filmmaker. Leopoldo is currently involved in various film and television projects including major adaptations of the Alex Cross series, with the author James Patterson and the upcoming film adaption of Middle School: The Worst Years of My Life.
Will you be reading Genius: The Game?